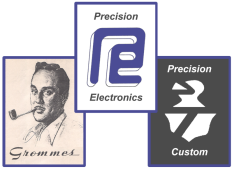 ---
---
---
Designers & Manufacturers of audio and electronic equipment for use in commercial, consumer, and industrial applications. Industrial Grade Amplifiers and Mixer Amplifiers for Continuous Duty.


Industrial Grade Audio Gear designed for
Continuous & Constant Duty


Audio and Speaker Line Lightning Suppressors: From low level audio up to 2,000 Watt speaker lines.

The entire SLS (Lightning Suppression) line is designed to save your equipment from destructive lightning strikes and costly repairs.

Unique and specialized, triple protection, designed by audio engineers for transparent protection of audio signals.


Custom made audio products for all types of businesses. Grommes Custom specializes in Private Labeling, Custom Applications, & Audio Outsourcing. Whether it is a complete product or component level, Grommes Custom prides itself on assisting other companies in getting their audio product to market, cost effectively and surpassing their expectations.

Grommes Hi Fi

specializes in high-end consumer hi-fi tube-based audio equipment. A major name in High Fidelity in the 1950s-1970s. Grommes is known not only for high-end tube amplifiers, preamplifiers, and tuners, but also the Little Genie Tube Amplifier Kit.