BX - Series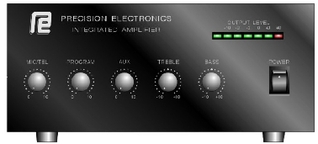 BX15 - 15 Watt
BX30 - 30 Watt
---
Start with the simple Basix series and add another channel and bass and treble controls and you'll have the BX -Series mixer amplifiers. The units will mix 3 channels accepting a wide variety of inputs, like a convenient MOH (Music on Hold) output can be used to drive the MOH of a phone system. Voice/signal activated muting of channel one over the other two channels is easily defeatable with a switch.
4 and 8 ohm along with 25V and 70.7 volt transformer isolated outputs are standard on each unit.Rack mountable with RP-MB Kit.
Wall Mountable with WM-BX.
Spec Sheet Below