Grommes~Precision Divisions

Public Address and Commercial & Industrial Sound Equipment.
Precision Electronics manufactures Power Amplifiers, MixerAmplifiers, Mixer Pre-Amplifiers, Tuners & Receivers, Equalizers, Lightning Suppressors, and Sound Equipment Accessories.

High-End Consumer Audio


Grommes
specializes in high-end consumer hi-fi tube-based audio equipment. A major name in High Fidelity in the 1950s-1970s. Grommes is known not only for high-end tube amplifiers, preamplifiers, and tuners, but also the Little Genie Tube Amplifier Kit in which many an audio engineer got their start.

Custom-Made Audio Products For All Types of Businesses
Precision Custom specializes in specializes in Private Labeling, Custom Applications, & Audio Outsourcing. With over half a century of experience and quality in the audio field, and numerous production runs of other companies' audio equipment, Precision Custom prides itself on assisting other companies in getting their audio product to market and meeting or surpassing their demands.
Grommes~Precision has been designing, engineering, and manufacturing quality sound equipment in the United States since it started operation in March of 1946. Today, Grommes~ Precision is composed of three divisions: Precision Electronics, Grommes Custom, and Grommes.
Grommes~Precision is one of the last American manufacturers of original, custom, and private labeled audio/electronic equipment for use in commercial, consumer, and industrial applications. With over a half century of experience in field, it's no surprise that you'll find our products in service world wide.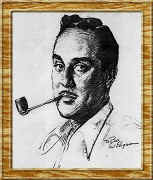 Our founder, Bill Grommes (Portrait drawn by Gil Elvgren).